Pole Sports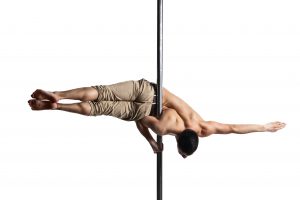 The term "Pole Sports" designate all the disciplines in which the athlete is presenting a mix of danse and acrobatics on and aroung a vertical metallic pole in static or spinning mode, depending on the momentum given by him.
Pole Sports is a term bringing together Pole Sport, Pole Art, Parapole, Ultra Pole and Urban Pole, as defined by the International Pole Sports Federation (IPSF), the governing body for Pole Sports at the international level. To know more about those different disciplines, please have a look at the dedicated page.
From Octobre 2017, Pole Sports are officially recognised as a sport by the GAISF (Global Association for International Sport Federations). This is a major step forward to enter the Olympic Games in a near future, but it will also help all the national federations to ask for an official recognition in their country.
Pole sports are a very demanding form of physical activity, requiring strenght and flexibility to evolve with grace, but it might be very artistic and creative at the same time. With their aerial dimension, pole sports can be very impressive, but they can be practised by everyone, from the amateur to elite level, and from kids to senior.
Indeed, this activity is a perfect way to improve health and physical condition, even for people without any prior sporting activity. Fun and original, pole sports allow a quick learning of aerial moves and a deep challenge for everyone practising.
This discipline can therefore be practiced by anyone, no matter the gender or age. Pole Sports can be performed solo, in duet or in groups.
Pole Sports in Switzerland
Our country counts around 70 studios dedicated to the practise of Pole Sports, and thousand of practitioners. In the past decade, pole sports have became a trendy and complete sporting activity.
Most of the studios are offering differents activities, as complements to pole sports, for example strenghtening classes, flexibility and contorsion, classic or contemporary dance classes, but also circus activities like aerial hoop (lyra) or silks. This diversity is also what make its popularity and bring together practitioners from all ages and provenances.
All studios are also offering workshops with international pole stars, but also specific training camps, in Switzerland and abroad, as well as shows and competitions, to make this sport even more popular.
Pole Sports are unfortunately still suffering from a bad reputation, wrongly assimilating the discipline with striptease or lap dance. But the SPSF is glad to see that Pole Sports are getting each day more credit, and are on their way to be recognised by the sport authorities. For example, Switzerland can be proud to have introduced Pole Sports in the University of Lausanne and Neuchâtel, and in several High Schools, as part as their regular sport program.
Elite Pole Sports in Switzerland
Switzerland is counting about hundred athletes evolving at the national competition level, and around 10 athletes competing at a international level, in amateur, semi-prof and elite categories.
One of the goals of the Swiss Pole Sports Federation is to offer a financial and logistical support to the swiss athletes, for their training and participation to the competitions.
The recognition of our sport by Swiss Olympic is one of the main goal of the Swiss Pole Sports Federation, because it would allow all swiss athletes to benefit from a necessary financial support for their development as elite athletes.
Those promising athletes will compete in the Swiss Pole Sports, Pole Artistic and Parapole IPSF Championships 2018, on May 19th-20th at the Centre Sportif Universitaire of Dorigny (Lausanne), for the title of Swiss Champion in their category, and a qualification for the World Pole Sports Championships 2018 in Tarragona (Spain). This event is open for public, so please come over and support our athletes !
Are you interested in starting Pole Sports ?
The Swiss Pole Sports Federation, as a governing body for Pole Sports in Switzerland, is at your entire disposal for any questions related to the practise of Pole Sports. You can have a look at our Swiss Studios directory, and to our FAQ.